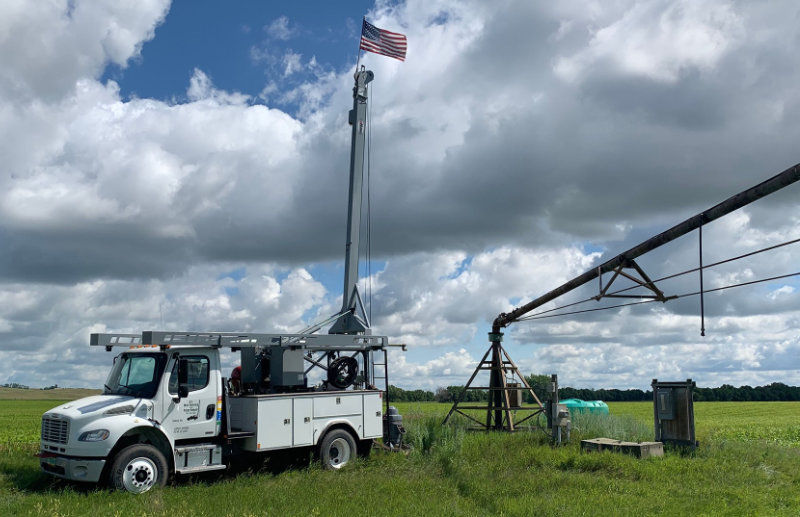 General Irrigation & Dewatering of Oakes, ND is licensed in sales, design and installation of deep well and submersible pumps. We have been selling and installing electric pumps, diesel driven pumps, and PTO pumps for irrigation and industrial applications for over 30 years. We have extensive knowledge in handling water and a sub-surface and surface dewatering division.
General Irrigation has been serving the midwest since 1967.
Meet Our Staff...
Dana Rosendahl
President - Owner - Sales
Dana is the president and owner of General Irrigation. He is also the head sales engineer. General Irrigation was founded in 1967. Dana joined the company in 1982 as a welder. Not long after, he was promoted to a manager of the company. In 1989, Dana purchased fifty percent interest in the firm. He served as the General Manager for nine years before purchasing all the assets of General Irrigation in 1999.
Dana is a licensed sewer and water contractor and is certified by the State of North Dakota for the installation and repair of deep well, turbine, and submersible pumps. He also carries several certifications from Zimmatic. Dana believes that the needs of the customer always comes first and the stability and success of General Irrigation is a result of satisfied customers and quality products.
Ryan Rosendahl
Vice President - Sales
Ryan Raatz
Parts Manager
Pam Schnieder
Office Manager, Advertising
Dorothy Rosendahl
Health and Safety Coordinator
Ricky Gamon
Ricky Gamon
Duane Iverson
Welding Shop Manager
Angel Sonora
Vehicle and Pain Booth Manager
Seth Meier, Kathy Barber, Ricky Gamon Jr., and Victor Cordova Jr.
Each well trained, dependable and experienced in pump, dewatering and irrigation mangagement.
Fall Promotion
Learn ways to save with General Irrigation this Fall.
Click Here
Quick Contact
General Irrigation & Dewatering
P.O. Box 291
Oakes, ND 58474-0291
Phone: (701) 742-3223
Fax: (701) 742-2934
Send Us An Email